Thanks again for subscribing to Oceanic Mind and The Deeper Meditation System. Enjoy the downloads below.
To get a complete and thorough training, I highly recommend that you download both ebooks, Bonuses #3 and #4. In fact, it is highly recommended that you read #4 first. Judging from reader feedback, they are complementary as a whole. Together, they will give you a thorough understanding of how to reach the depths of meditation.
Bonus #1 of 4: Free Guided Meditation MP3's
You can left click the links to listen to them in the site's native player, or you can right click and choose "save target as" or "save as" to download them to your computer.
Inner Smile Meditation:
http://deepermeditation.net/inner_smile.mp3
Theta Brainwave Shortcut Technique:
http://deepermeditation.net/theta_brainwave_technique.mp3
Mindfulness Breath Meditation:
http://deepermeditation.net/mindfulness_meditation.mp3
Body Scan Meditation:
http://deepermeditation.net/body_scan_meditation.mp3
Inner Fire Exercise:
http://deepermeditation.net/inner_fire.mp3
Bonus #2 of 4: The Complete Deeper Meditation Audio Course
You probably did not know about this bonus. I want to pay extra special thanks to you for joining my circle by offering you the 400 minute (6 hours, 40 minutes) Deeper Meditation Audio Course for a small fraction of the regular price.
This is for a very limited time. You get all 65 MP3's instantly for only $17 USD or the equivalent in your currency. Today is November 17th, 2020. I will be restructuring this course and adding it to a new multimedia platform. After that, the price will skyrocket to $197.
You will be satisfied. If in some case you aren't, even for $17, request a full refund. No hard feelings.
*
[purchase_link id="9226″ text="BUY & DOWNLOAD NOW" style="button" color="red"]
"Hi Tom, your meditation audios are astonishing. Thank you. It's the best media-based meditation course I have ever seen — and I've seen a lot of them. It's simple, elegant, effective. Your explanation is honest and authoritative." – Andre Nasser, Rio de Janeiro, Brazil via Facebook
Bonus #3 of 4: 100 Pages of Oceanic Mind
Must have Adobe Reader or another PDF reader. Mobile users can download a free reading app at http://www.adobe.com/products/reader-mobile.html
Again, read Bonus #4 first for best results. For even better results, make sure to practice what you learn.
Bonus #4 of 4: Free Book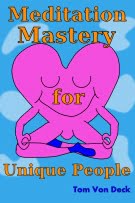 Get yourself a free copy of the book, Meditation Mastery for Unique People, as an instant download. You will learn how to quickly and easily determine the meditation technique and overall practice that is right for you as a unique individual without wasting any time. You will also learn how to meditate much more deeply.
You are unique, and your way of connecting to the vast stillness within is also unique. This book is dedicated to making sure that you discover your own portals to peace.
This book is essentially the same as a book on Amazon called Learn How to Meditate Properly. If you want it in Kindle format, you can look for that one.
Download now:
http://deepermeditation.net/ebooksandsuch/Meditation-Mastery-For-Unique-People.pdf
If you're using a mobile device with a small screen, make sure you have an Adobe Reader mobile app for your device.
Enjoy,
Tom